Aoshima 1/24 scale Toyota Aristo Vertex Edition JZS-161 | Model Kit Index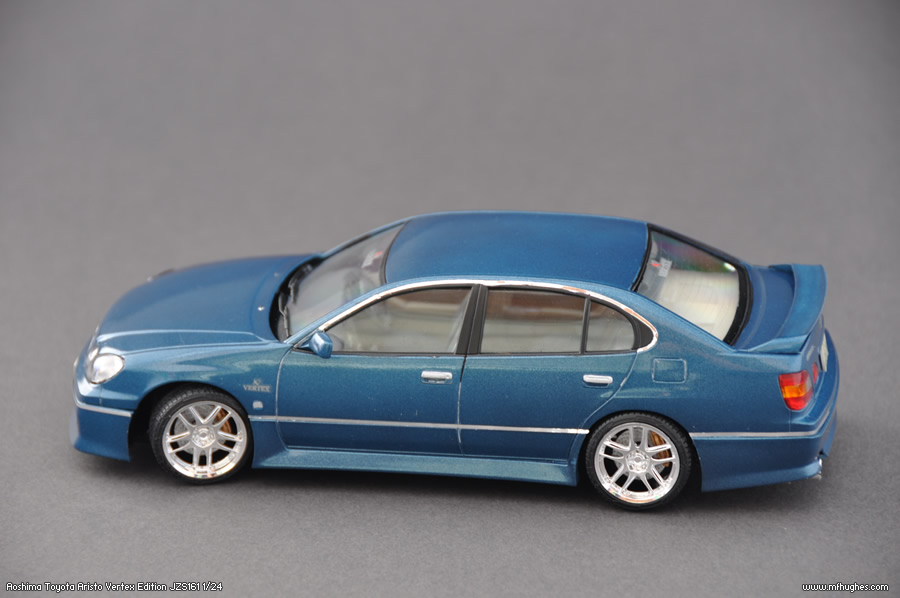 Aoshima Toyota Aristo Vertex Edition JZS-161 completed Feb 7th, 2015.
Kit bought in Hong Kong Jan 2013, begun/completed 2 years later. The kit is good, one thing I didn't care for is that unlike other similar Aoshima kits, this didn't have adjustable suspension, so the rear camber/slammed look was "moulded in" by the shape and length of parts. However, after some cutting, bending and fiddling about, I was able to more or less remove/reduce the effect, which isn't one I care for.

The colour is Halfords rattle-can Vauxhall Petrol blue, with Tamiya clear-coat over the top. The interior carpets are flour-flocked, and the only non-OOB parts are the mesh behind the lower front grille-opening and the number plates.
Click Thumbnail below to view larger image.
All content, text & graphics Copyright © M.F.Hughes 1995 - 2015 | Home | More Kits