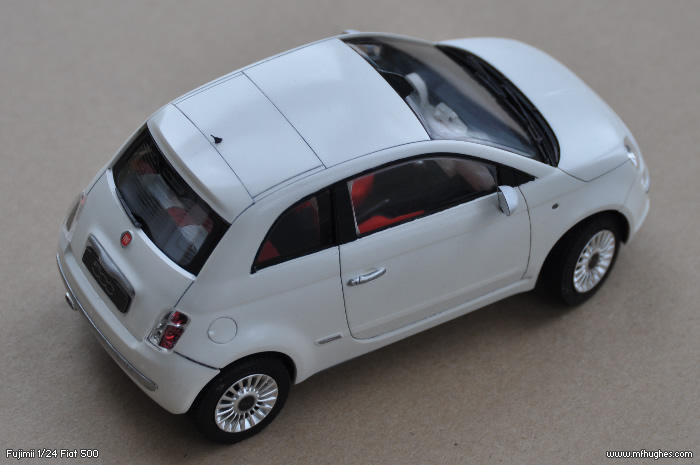 Fujimi Fiat 500 completed in June 2012. Click Thumbnail below to view larger image.

I had high hopes for this kit. It's a newer car in real life so therefore a newer kit. I thought Fujimi would have it figured out by now. And the detail in the mouldings is very good, such as the underside for example. But the tyres, wow - they look like the mould machine came together about 1.5mm out of line. And the fitment of some part to others is terrible, such as the glass to the body, where the glass is too large and pushes it's way back out again. Fitting the body to the chassis isn't great either - the plugs for the chassis at the back are on the separate piece rear bumper, and the amount by which you need to stretch and force the body to get the chassis in ruins any thin panel lines you might have earlier created.

Finally, though it's neither Fujimi's fault nor the first white car I've made..
this model got more easily grubby than any other white kit I've worked on before..

Overall more a frustrating build than an enjoyable one. The photos however make it look better than it is.
All content, text & graphics Copyright © M.F.Hughes 2012 | Home | More Kits