Fujimi 1/24 scale Mitsubishi Pajero Jr. | Model Kit Index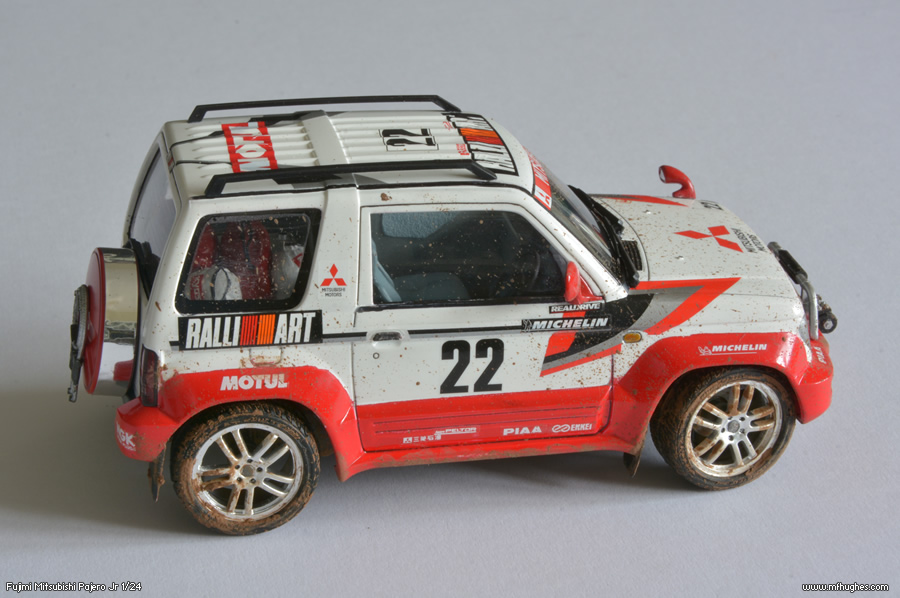 Fujimi 1/24 Mitsubishi Pajero Jr completed May 22nd, 2016.
Click Thumbnail below to view larger image.
Kit bought in March 2016 in Yodobashi Shinjuku, Toyko. Additions to boxed kit are.
1) Two sets of Tamiya Evo Rally decals, plus some other donor decals too.
2) Interior carpets, seatbelt retainers, door panels.
3) Interior oil cans and duffel bags (donated from 1/35 military kit)
4) Front winch (part military donation, part scratch built)
5) Front mudflaps & bolts to hold them on
6) Mesh on front grille, padding on front bull-bar.
7) Tow cable on rear spare wheel (donated from 1/35 military kit).
8)New wheels and longer axles to widen stance.
All content, text & graphics Copyright © M.F.Hughes 1995 - 2015 | Home | More Kits