Hasegawa 1/24 scale Mazda Cosmo Sport (110s) . | Model Kit Index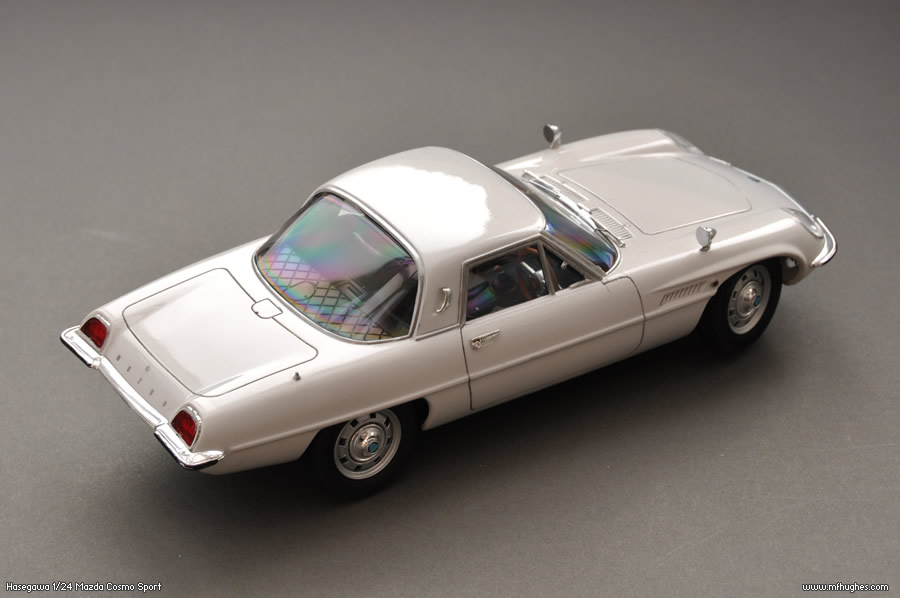 Hasegawa Mazda Cosmo Sport (110s) completed August 30th 2014.
Background:
I've liked Mazda's rotary engined cars for a long time, and this one is where it all starts. I'm so glad Hasegawa made it into a model kit.
Pros:
Fits together with no problems at all. Good moulding, little cleanup required. Nicely detailed. Metal transfer emblems front and back. Die cut carpets included. Chrome parts look good. Relative to a lot of modern cars it's small, so takes less shelf space!
Cons:
Curbside - no engine.
Verdict:
Great. An enjoyable and fuss-free build.
Build notes:
Body colour is Tamiya TS-45 Pearl White. It's built entirely out-of-the-box, being sufficiently detiled that it needed no further contribution beyond what Hasegawa supplied.
---
All content, text & graphics Copyright © M.F.Hughes 1995 - 2015 | Home | More Kits