Tamiya Alfa Romeo 155 V6 DTM 1/24 scale. | Model Kit Index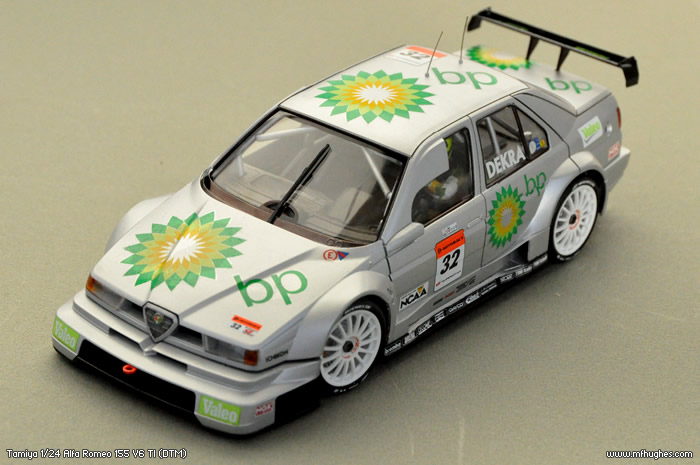 Tamiya Alfa Romeo 155 V6 TI Touring car completed in December 2011. Click Thumbnail below to view larger image.

I thought the Bosch livery that came with the kit wasn't very exciting, so I bought some other decals and made up my own colour preference. Another excellent kit from Tamiya - I'd only complain that after all is done, the bonnet doesn't fit very well. Also the decals didn't take My Hobby Top Coat very well - after spraying the bonnet the BP flower started to bubble and lift. After some time and patience with chemicals and water and a pin, I managed to rescue it more or less, but that was it for top coat, I dared not do more.
The driver wasn't part of the kit, he's the sold-as-seperate Tamiya one. I'm quite pleased with his belts and buckles.
Of the 15 or so cars I've now built, Id say this is currently the one I'm second most proud of as a build. A lot of what I've learned from other kits has gone into it - now I just need to learn how to correctly balance paint, decals and top coats to get that perfect shine.
All content, text & graphics Copyright © M.F.Hughes 1995 - 2015 | Home | More Kits