VIP Car tutorial : Aoshima Admiration Toyota Celsior 1/24. | Model Kit Index
This tutorial is for a Toyota Celsior VIP car, in this case, the Aoshima Admiration Celsior. In every case, comments refer to the photo directly above the comments. I've tried as much detail as possible within both the photos and descriptions, so if you're reading something you already know, just skip ahead.
Gallery of completed Kit.
Part 2 : The interior part 1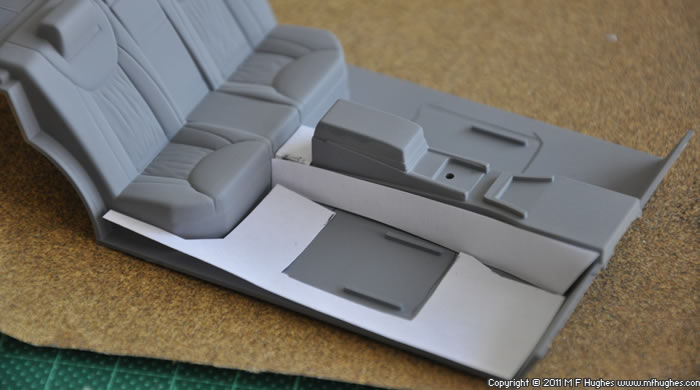 The interior was undercoated with the same Halfords Plastic Primer, and paper templates were cut for the interior carpets.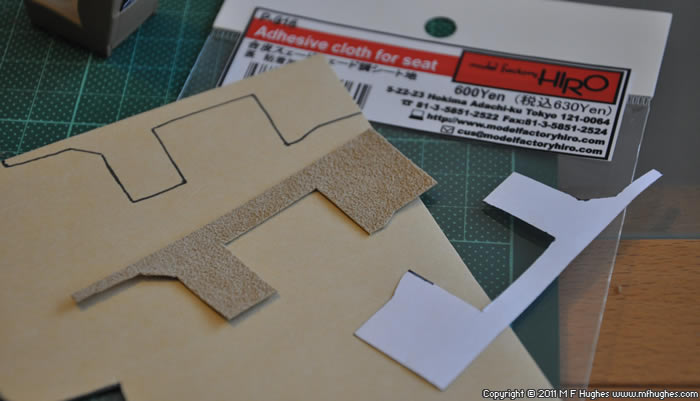 Using the templates, carpets were cut from Model Factory Hiro adhesive cloth, ready for the interior.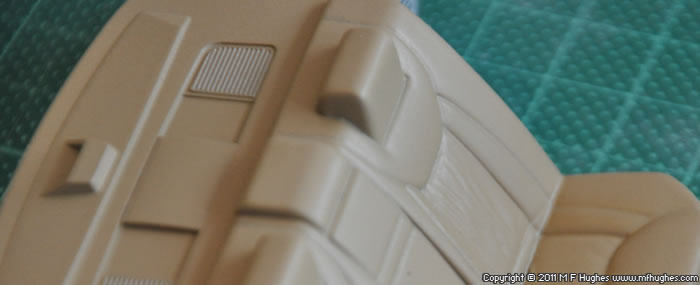 Meanwhile all the beige interior parts were coated with a Hycote rattle can: Ford Tuscan Beige. I found this in a car shop that must've got stuck in a 1970's timewarp. Who own's a car this colour any more? Anyway, it's a usful but very very shiny colour, so once it was dry I flattened it with My Hobby Flat Matt clearcoat.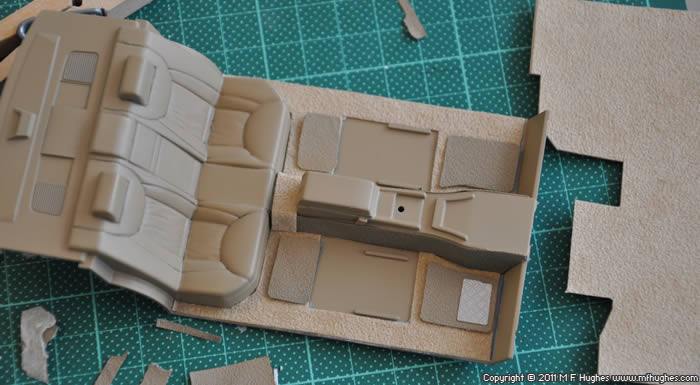 The carpets were stuck in place - they contain their own adhesive. The mats are slightly rougher and are made from sandpaper spray painted with the same Ford Tuscan Beige. Heelplate is Crazy Modeller cris-cross metal plate. By the time I realized it should be at the other end of the mat, the superglue that's holding it in place had set, so I left it.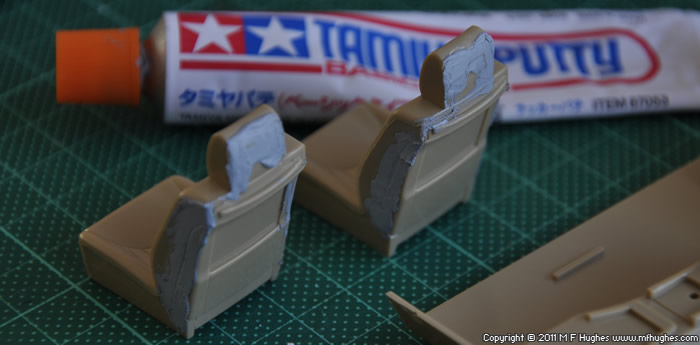 The seatbacks were glued in place, and the gaps filled with Tamiya Putty.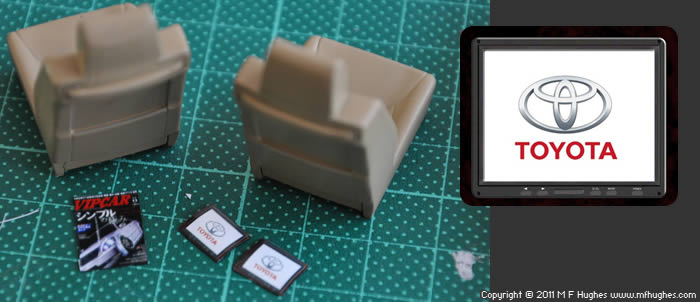 The seats were sanded and sprayed and flattened in the same way as the rest of the interior parts. Also shown are some prepared extra details. The seatback TV screens were made in photoshop (graphic shown to the right) and the VIP Car magazine cover (also featuring a Toyota Celsior) was sourced from the internet. After making the correct DPI / print size calculations, they were put on a USB stick and printed as a photo at the local supermarket: instant kind-of decals, then trimed with a craft knife.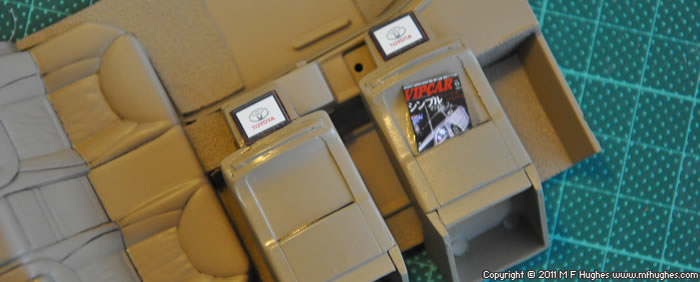 The only thing that will bond photo paper to painted plastic is superglue, so I used that here. The VIPCar magazine is trimmed to appear placed at an angle.
Front and rear seat belt retainers were cut from a length of strip plastic, and superglued in place. Later they are painted beige.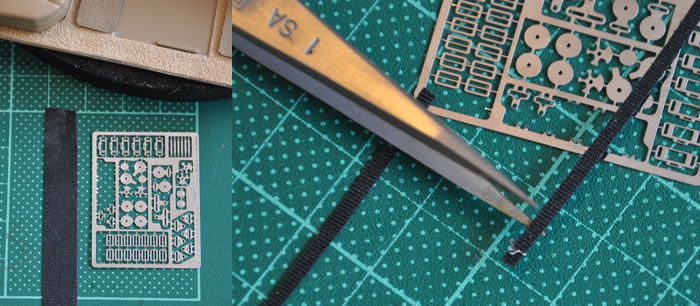 I was lucky to find a big roll of seatbelt type sticky-tape some time ago, so a length of this was cut into thin strips and then some Crazy Modeller seatbelt buckes threaded on with tweezers. I have enough buckes left for the rear seatbelts, but none for the front and at the time of building could find none online either. I decided to stick with rear belts only, since they're more visible.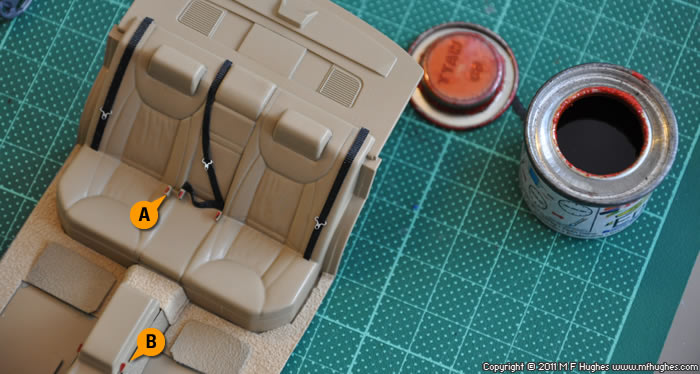 The tape sticks directly to the seats, perfect. The retainer's tops are painted with Humbrol Matt Red. I could paint the seatbelts beige which would be more common with a beige interior, but after Googling beige interiors, I decide that for contrast I will stick with black ones, which have also appeared with beige-interiored cars in real life.

This seemed like a good time to Google a Celsior interior for reference (left) , and using this I painted the dashboard's two alternative colours, German Grey and Matt Black.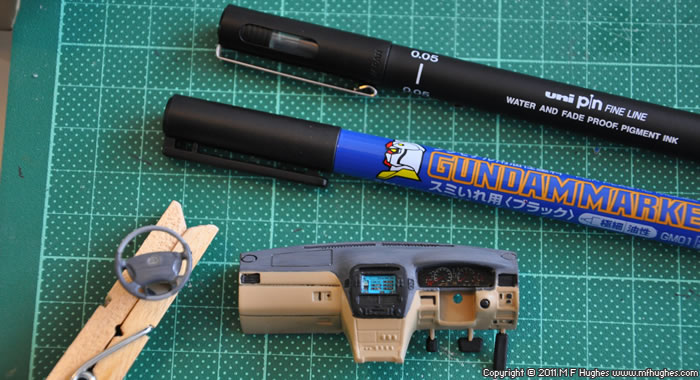 The semi-complete dashboard. Decals are applied and some black details filled in with both a Gundam Marker and a 0.05 Mitsubishi Uni Pin waterproof pen. These UNi Pin 0.05 pens give really good thin lines. They're also useful for car body panel lines.

Two views of the dashboard. On the left, the wood areas have been painted with Humbrol's Matt Leather, which is a great colour for wood (and rust). Details are picked out in silver and further panel lines drawn in with the Uni Pin. On the right a second wood colour has been added to simulate grain, which was the same Matt Leather mixed with a little black.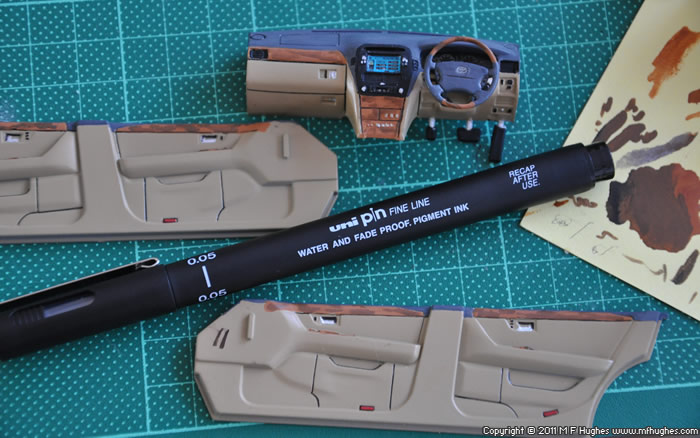 The door cards and dashboard got the final bit of Uni Pin treatment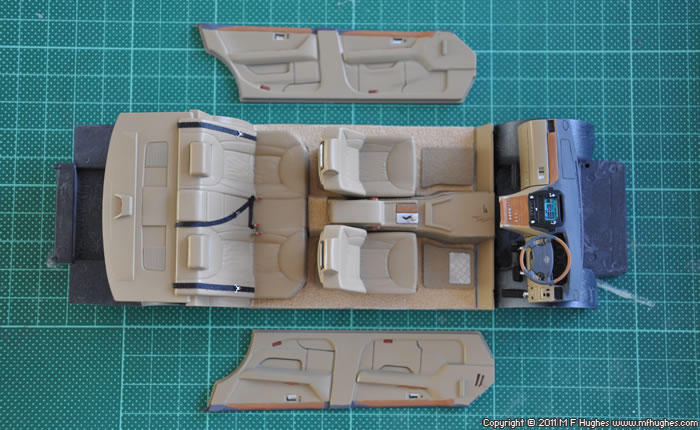 Seen here at a slightly earier stage of painting, the interior was laid out for fitment testing.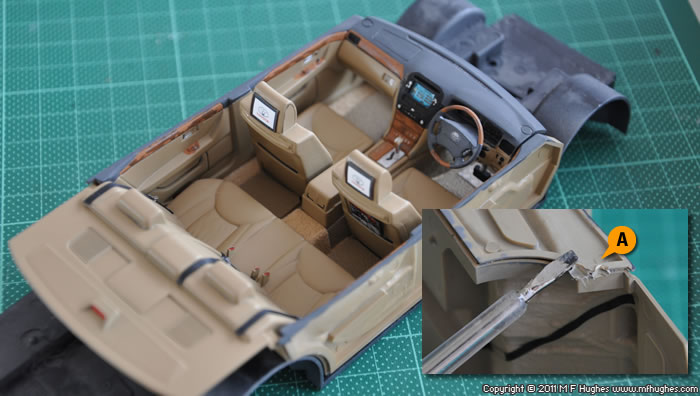 The interior was glued together. The interior carpets caused a small fitment issue on the rear passenger side, so the hot screwdriver came to the rescue. (A)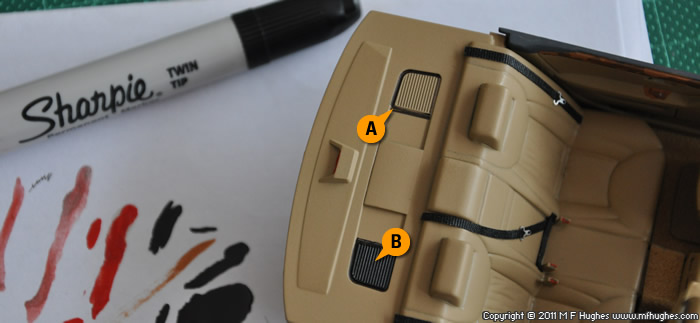 The final part of the lower interior half - the recessed outline of the speakers is traced with a Sharpie (A) , and the centre filled with Tamiya Flat Black acrylic. (B)
All content, text & graphics Copyright © M.F.Hughes 1995 - 2015 | Home | More Kits